Parts list so far (in no particular order)
Engine parts
1978 1275GT bodyshell
Megajolt system complete with EDIS module, coilpack and crank sensor
1275GT front grill
Complete Turbo engine gasket set
Complete gearbox gasket set
HIF 44 turbo carb
Used intercooler
Turbo plenum
Complete used 1275 A+ engine
Reground and hardened A+ crankshaft
2 x T3 turbo with manifold and wastegate
4 x Omega forged pistons 020 18cc dish
ARP cylinder head bolt set
ARP conrod bolt set
Duplex vernier timing gear and chain
Stainless steel G17 turbo manifold kit
G17 Turbo
Reground and hardened Crankshaft 1275 A+
Fully reconditioned cylinder head,ported and polished, 22.5cc featuring unleaded exhaust seats, collisbro valve guides, 35.7mm competition intake valves, 31mm heat treated competition exhaust valves, quality double valve springs, single groove collets and caps and quality viton stem seals! All crack / vac tested
Gearbox parts
MED x-pin diff
Used A+ gearbox from 1275cc
Brake parts
Minisport alloy 4 pot calipers, 7.5inch grooved discs, complete with hubs and outer cv joint
MG Metro 4-pot calipers, 8.4″ ventilated discs, complete with hubs and outer cv joint
Complete late model brake servo setup including master cylinder and pedal arrangement
Body Parts and Panels
Complete left and right side original wings including A panel and door hinge section
Complete original floor section
Left and right original outer sills
Left and right original front wings
Original front panel
Boot repair panel
Rear lower valence
Other parts
BMW Mini one panoramic sunroof and headliner
Orange plastic shrinkable sleeve
Mpi fuel tank with high pressure pump
John Brown alloy wheels 13×7 Matt black with red stripe
Recaro front seats (recovered in leather and ancient buchanan tartan)
Complete set of original Sportspack wheel arches
Other things I've already got I might use
Remote brake servo
Hardy splicer joints
OMP steering wheel
Original 1275 GT steering wheel
Original 1275 GT instruments
Forged standard rockers
Rollcentre bolt in rollcage
Things still to buy or thinking/deciding about
Seats
Camshaft and followers
Centre main strap
Oil pump
Instruments/guages
Exhaust
29.12.2016
Welcome to my Project 1275GT Turbo Show Car project section!
This is a private project funded by me and built by me in my spare time.
I welcome any advice, comments and brilliant ideas.
If you want to get in touch with me directly please do so at
You are also very welcome to add a comment at the bottom of the page.
I am attempting to document this build both for myself, for future reference and for anyone else who might be interested.
In late 2016 I bought a 1978 1275GT with most of its good bits missing – like the front grill and engine. The body is not too bad but still requires a fair bit of welding.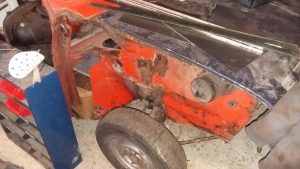 There is a whopping great hole in the roof where a sunroof was once fitted and my initial plan was to weld a section back in. The extra roof part to weld the hole came with the car but there are other plans in the pipeline!!
I've always dreamt about making a "show car" so why not go all in and build a 1275GT showcar?
Nothing less than a turbo engine would do it, so I immediately begun collecting parts for the project (see the parts list at the top).
As you can see from the list I have already bought two Garret T3 turbo setups, however I was a bit quick of the mark as soon I discovered that a bulk head box modification is required to fit these turbos. This same modification is seen on ERA turbos and they use a Garret T3 turbo. Therefore I have bought a complete G17 manifold setup from Matt at Fusion Fabrications. This setup doesn't require a bulk head modification and some would argue that the G17 turbo is more efficient that a T3. I also opted to get the cylinder head professionally modified so I have asked Alex at The Car Kitchen to build one for me. Alex is a good sparring partner when discussing engine specs etc.
The last four months of 2016 have been really busy for me so I haven't spent much time in the workshop and my girlfriend's British Open is still needing the last few things done to it before its test, so plans are to finish that before starting project 1275GT.
So most of my time at the moment is on Facebook and Ebay being inspired and spending way too much money on shiny bits!